profiles - a light-hearted look at industry personalities
No. 74 in a continuing series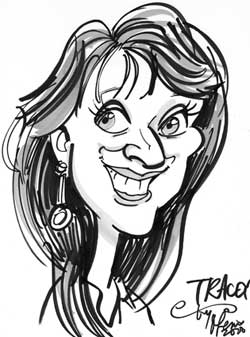 Caricatures by

Tracey Patterson
Marketing Director, Artistic Licence
Tracey Patterson stumbled into the entertainment industry quite by accident after dipping her toes into various other industries - including the DHSS, a road-surfacing company, a well-known hotel chain, organic farming and raising veal calves. However, in the mid-seventies, she forged ahead with her chosen career - in dentistry!
Before settling down to her studies, Tracey had a taste for travel and did her fair share of gap-year adventuring (well, four months anyway.) During her travels, she found herself attending the Montreux Jazz Festival where upon meeting Mark Thompson, quickly found herself working backstage where she caught the showbiz bug. A few months later, she joined Mark - who coincidentally now also works for Artistic Licence - in Basel, Switzerland to work as a lighting technician and trainee repairs engineer for Powerlight. During this time Tracey became involved in the prepping of equipment for trade events and exhibitions, and the management of stagehands working on fit-ups. Although bitten by the 'bug' common-sense took over and in August 1988 she returned to her 'proper job' as a dental assistant in private London practices.
During this time she took various receptionist and dental assistant jobs whilst training and in 1991 gained diplomas in dental therapy and dental hygiene from The London Hospital Medical College, Whitechapel. The newly-certified Tracey then took the first-ever house job post as Dental Hygienist & Therapist in The London's Oral Surgery department, where she got to meet and treat a wealth of different people from those confined to intensive care beds, through highly contagious patients with life-threatening diseases or severe disabilities, through to plain old terrified children (and adults). On the back of this experience, she bought into a joint partnership for a private dental hygiene practice in Wigmore Street whose clients were referred by local dental practitioners for oral hygiene and preventative care.
This dental practice was very successful for partners and patients alike, but Tracey, still under the drug of showbiz, began working for Wayne Howell at Artistic Licence during her spare evenings. Eventually Artistic Licence began expanding so rapidly that she decided to throw in the medically sterile towel and sell up her share of the practice in order to concentrate her efforts on marketing and administration for the company, allowing common-sense to give way to instinct.
The switch from dentistry to Artistic Licence is not as diverse is it may at first seem - both jobs involve finding simple solutions to seemingly complex problems: in htis case helping overwrought and overtired technicians resolve their technical protocol clashes. Tracey will often work with Wayne on site in order to really see and understand what a problem is in order to come up with the most practicable solution - a hands-on system that gets to the crux of the matter far more efficiently than providing support from the end of a telephone. In return for her bizarre out-of-hours efforts, Tracey finds great reward in working for a top class design and manufacturing companies who deal with an eclectic mix of characters on a daily basis, bring fun and humour into life as well as the stresses and rewards of problem-solving. She wants every customer to comment every time they use a piece of AL equipment. She actually believes she can hear them say: 'Thank God someone designed this, how did we manage before..........?'
And Tracey's experiences in the world of dentistry have not been wasted because on meeting her you always get one of the biggest smiles in our industry!
Look out for the next subject in our Profile series...
© 1999 - 2023 Entertainment Technology Press Limited News Stories