profiles - a light-hearted look at industry personalities
No. 1 in a continuing series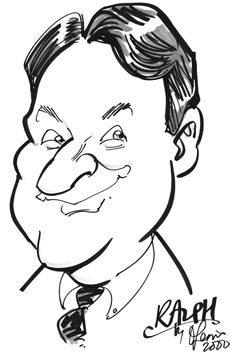 Caricatures by

Ralph Young
Sales Director, Lee Filters Ltd
RALPH YOUNG joined Lee Filters in early 1975 as a van driver, following a highly successful interview when most of the questions were based on finding your way around London. Being a West London born lad he was well up to the task and suitably impressed the panel. In fact, the MD at the time, the late David Holmes, still offered him the job even though he nearly choked on his cigar when Ralph informed him at the end of the interview that he didn't have a driving licence.
Young Ralph took a 'crash' course in driving and began his career with Lee Filters on an hourly rate of 75p. It didn't take long for his enthusiasm to be noticed, and promotion to Stores Manager took place in March 1977. Enjoying the challenges along the way, in a company he knew was going places, the inevitable happened on the 1st August 1980 when he was offered the position of Sales Representative.
Born to be a salesman, the editor of the company's in-house magazine, Sean Caruana, who recently featured Ralph as Del-Boy on the cover of its Millennium edition, says "he's the only person I know who would have little trouble selling 2lb of pork chops to a vegetarian."
His step up to Directorship took place in 1990, so this year Ralph celebrates 25 years at the company and 10 years as a director. The little spare time he has he spends with his wife Anita and his teenage children, Adam and Katie. He also runs an under 16's football team, who won their league and cup double last year, and was witnessed pacing up and down the touchline in the cup final shouting "mon dieu, mon dieu".
Look out for the next subject in our Profile series...
© 1999 - 2023 Entertainment Technology Press Limited News Stories