profiles - a light-hearted look at industry personalities
No. 68 in a continuing series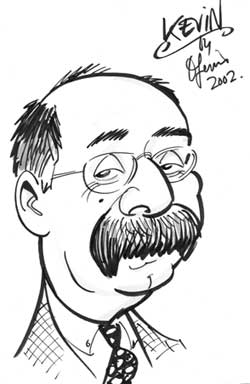 Caricatures by

Kevin Hopcroft
Managing Director, Premier Solutions (Nottingham) Ltd.
In 1967 Kevin Hopcroft started a night club at his father's Old Tyme Dancing School, which was located in the cellar of a church in Nottingham. Because the place looked like a railway station he called it the Junktion Club, and the name was spelled that way deliberately to avoid connection with the book 'Up the Junction' which was considered in very bad taste by the church. When his father died, only 10 weeks after the club opened, the church withdrew the lease and left Kevin with just his equipment and records. However, during this brief spell of success with the Junktion Club he had acquired a taste for business and being a DJ.
Undaunted, Kevin took over a failing club in Grantham called 'Cat Ballou', run under the name of The Junktion Organisation, which failed to deliver the expected success and closed some nine months later, leaving him broke.
He returned to Nottingham and became a DJ for one night a week in a pub for the fee of £1.00 per night. This soon turned into two nights per week, just as mobile discos started to appear in the UK. He, and the man who owned the gear, converted the equipment into a mobile rig and the 'New Junktion Record Revue' was born. Kevin was soon working six nights a week and decided to buy the equipment off his partner. He was also turning down bookings and so built another set of equipment - you couldn't buy it in those days - and got a DJ working for him. He soon got this DJ working six nights a week too and immediately set about making his third set of equipment. At this point The New Junktion Record Review became 'New Junktion Discotheques', and at its height grew to handling over 400 bookings per month with 30 DJ's working for the company. Kevin also became a member of Equity and continued to perform, not only a DJ but also as a comedian, dancer and compère.
By now New Junktion Discotheques was known to everyone as NJD, its shortened name. During the growth of NJD Kevin also opened a retail shop and teamed up with an electronics expert to form NJD Electronics. The new company soon outgrew the DJ hire side of the business which was discontinued, enabling Kevin to concentrate on retailing and manufacturing, and in 1981 he stopped his career as an entertainer.
During the 1970's and 80's NJD grew to become a well known brand exporting to over 30 countries around the world, and many industry companies also used NJD to manufacture their own-branded products. Well known names such as RSC, Roger Squires, Norman Rose, Jem and Abstract all had products manufactured by NJD. But perhaps NJD is most famous for its own-name products and manufacturing some of the most innovative equipment at very affordable prices. At this time, Kevin also became a member of the PLASA committee, quickly rising to the post of Treasurer and then Chairman.
In 2002 Kevin finally sold his interests in NJD and formed his new distribution company Premier Solutions. This distributes products for many well known brands including Futurelight, Eurolite, HZ, Showcraft, Omnitronic, Pulsar, Clay Paky and, of course, his old brand NJD. But perhaps less well known is the other side of Premier Solutions, which specialises in equipment for the Special Needs Market, with particular emphasis on Hydrotherapy.
Having spent 36 years in the industry he has witnessed massive changes in both the products and demands made upon them, but has always managed to stay ahead of the game. When asked why he didn't retire after he sold NJD, Kevin said: "I was too afraid of being bored to death. There is no other industry that moves so quickly and stays so fresh and exciting. Every entertainer wants something new to excite his audience and this continuous demand for "something different" keeps the industry on its toes."
You can find Kevin on the Premier Solutions stand at the Music Live Show at the NEC in Birmingham in November. And he's still smiling, still telling jokes, and still selling! Or you can contact him via kevin@premier-solutions.biz. (Being a born salesman, he insisted on that bit).
Look out for the next subject in our Profile series...
© 1999 - 2023 Entertainment Technology Press Limited News Stories