profiles - a light-hearted look at industry personalities
No. 19 in a continuing series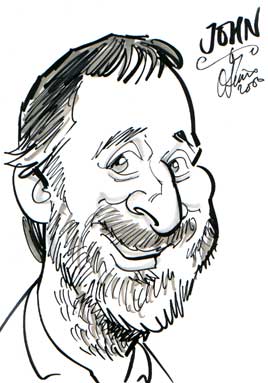 Caricatures by

John Lethbridge
Managing Director, Cereco International
When still at school, John Lethbridge was undecided whether he wanted to pursue a career based on science or the arts. Early experimentation with putting red-head matches inside the teacher's chalk and aluminium milk-bottle tops over the caps of the classroom light bulbs were perhaps early indications that he would follow a career that employed technology to create spectacular effects. The pyrotechnics he created were much more appreciated by his classmate audience than his teachers, who unwittingly became performers, and it was no surprise when the headmaster of the highly reputable Grammar School concerned suggested to John's parents that he might like to continue his education elsewhere.
Enrolment at the London College of Fashion was followed by resignation within a week after observing the mannerisms and friendly smiles of the few 'chaps' on the course and a swift switch back to technology led to John enrolling for an electronics course. That too only lasted a few weeks and within three months of leaving school, he had started a full-time job as a trainee cartographic draughtsman with the M.O.D. which led to a position as a land survey draughtsman at Surrey County Council.
John's main hobby had been going to see live bands and an all-nighter at the 'International Love in Festival' at Alexandra Palace in July 1967 was to change his life for ever. Having gone to see bands such as Pink Floyd and Jimi Hendrix playing on the same bill, the greatest impact came from the light show produced by 'Mark Boyle's Sensory Lab'.
Within days, Father's slide projector was mysteriously covered in multi-coloured finger-prints and Mother was completely mystified as to why her electric food mixer had a circular polystyrene wheel with two holes attached to one of the blades, unaware that when you stuck it in front of a photoflood lamp, it produced something called a 'strobe' effect. John persuaded a friend to invest in a couple of slide projectors of their own and another friend, who had just formed a band, invited the pair to do a light show for their debut gig. The 'Mass Spectrometer Light Show' was in business!
Before long they were in residence at various clubs, but at weekends, the loon pants and tie-dyed tee shirts had to give way to suits and ties as the boys became part of Juliana's Discotheque's 100 Guinea-a-night travelling discotheque, performing at country house parties for the aristocracy and debutante balls.
By 1970, the weekends were taking their toll, and alternating between the Grosvenor House Hotel and Middle Earth was leading to an identity crisis for John. After three years he gave up hope of ever meeting a rich heiress and in a bold move resigned form his job and found himself 'on the dole' at 20. Fortunately, in those days, Surrey C.C. paid you back your superannuation contributions when you left, so with all of £40 capital to invest, he bought a couple of strobe kits. In 1970, there were only two companies selling strobes commercially to the entertainment industry - both musical instrument dealers in the West End. John found he could sell his strobes at less than half the London retail price and still make more money on two strobes than he was getting each week on the dole. There was really no option - it was time to start a full-time business.
With the light show re-branded as 'Cerebrum Lights', a regular advert was put in Melody Maker for the light show and strobes, and one of the first customers was a young Tony Gottelier who had just started a mobile discotheque with his partner, Jon Jeffcote. Within weeks, Tony had come back to John, offering to set him up as a dealer for a range of liquid wheel projectors being made by somebody in the basement of a boutique in Kings Road. This turned out to be Phil Brunker, later to become one of the founders of Optikinetics. The advertising soon paid off, with a contract to provide installed lighting for a new London club planned for the old Lyons Corner House just off Piccadilly Circus. John, Tony Gottellier and Phil Brunker completed the contract under the guise of Meteor Illusion Ltd., Tony's new company. Within a few months, Tony had met up with the recently graduated Ken Sewell and Paul Mardon of Pulsar Light (the only guys in the lighting industry who never had a proper job!) and their great uncle, Derrick Saunders and become Pulsar's exclusive distributor. Phil had teamed up with Neil Rice and Keith Cannadine and formed Optikinetics. Cerebrum Lights became a dealer for both Pulsar and Optikinetics and the rest is history.
It was an introduction to Keith Dowzell, drum-basher turned metal-basher, of the Power Drive Drum Company, who had developed a range of drum stands into lighting and speaker stands, that started Cerebrum Lighting (as it had then been renamed) seriously on the road to international wholesale distribution. Cerebrum's biggest period of growth came after having refused trade discount to a young upstart lighting designer, Keith Dale, of Celestial Lighting, because he was not VAT registered. Fortunately for John, Keith eventually forgave him and came back with a new lighting console called the 'Gamma 300' made by a his mates at Electronic Field Services, and the highly successful partnership between Cerebrum and EFS-Celco was born.
John went on to set up Celco Inc. in the U.S.A. with co-director Colin Whittaker, eventually head-hunting Norman Wright, complete with kilt, from Zero 88 Lighting, to run the operation in New York. As Celco expanded in the U.S. a tie up with another ex-pat Scot, Marshall Bissett and his partner, Colin Waters, led to a joint venture between Celco Inc. and TMB in Los Angeles, a company who introduced John to the concept of the four-and-a-half day week, as they tended to shut up shop and go bass fishing on a Friday afternoon.
John set up Cereco International Ltd. in 1997 as a new vehicle for his future plans and last year, after 30 years a director of Cerebrum Lighting, during which time he had been vice-chairman of PLASA, he sold his interest in Cerebrum to Lighting Technology Group and fulfilled his long stated ambition to take 'early retirement' at 50. He has since started an on-line audio and lighting equipment auction site at www.cereco.com. An invitation to join the ABTT Safety Committee has kept him closely in touch with the industry and rumour has it that he is due to come fully out of retirement fairly soon. Watch this space!
Look out for the next subject in our Profile series...
© 1999 - 2023 Entertainment Technology Press Limited News Stories