profiles - a light-hearted look at industry personalities
No. 9 in a continuing series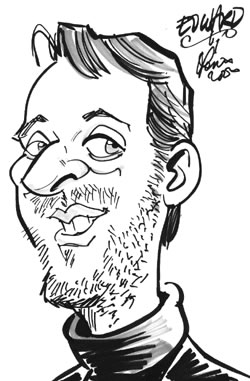 Caricatures by

Edward Pagett
General Manager, Vari-Lite London
It was a cold wet night when the ever-helpful Edward 'Ed' Pagett (aged 12) began waving cars into parking spaces at a school Barn Dance for parents. Had the sixth form lighting tech turned up, the hand of fate could so easily have dictated an alternative career path - car park attendant. Instead, the young Edward was hastily instructed to hang up his waterproofs and taught the rudiments of followspotting in a few minutes flat. Ever since he has never been able to justify uttering the words "you can't park there mate".
Sporting ineptitude and pity also played a part. He was encouraged to take on stage work in preference to standing idly on the touchline during school sports. Supported by first generation thespian parents (who concealed their disappointment) it was destiny that he would be involved in the glamorous world of entertainment - but instead, he got a degree in engineering and joined Strand Lighting as a service engineer.
A well-travelled man, with experience in all corners of the globe, it is reported he would walk nonchalantly into many an interesting situation, but always come out the other side wondering what he'd missed on the way through. Following one of his overseas trips there was uproar in Strand's accounts office when a sharp-eyed clerk spotted his hotel bill included an item for 'fluffed underwear'. Edward had probably ticked the wrong box on the laundry list, but his bemused look when questioned couldn't stop the ribald comments.
Over 11 years and many different positions later he won parole . . . and new opportunities beckoned, including a touch of rock 'n' roll, when he joined Vari-Lite's London operation in Greenford. He has spent 16 years in the industry to date, and in his present role as General Manager of Vari-Lite in London he can already look back nostalgically at the characters who have selflessly been there to make him look good, a trend that he hopes will continue.
In his spare time, Edward continues to pursue his life-long interest in lighting, designing for amateur and professional performances as time allows. Recent venues include The Minack Theatre in Cornwall, Richmond and Wimbledon Theatres, Henley Rowing Museum, Polsden Lacy and numerous other venues. On occasion he can also be seen rigging for Vari-Lite Production Service gigs, masquerading as professional crew! As a DIY expert, the ever-accommodating Ed often gets called out by friends to help with what often turn out to be the trickiest of tasks - "the jobs from hell".
Look out for the next subject in our Profile series...
© 1999 - 2023 Entertainment Technology Press Limited News Stories