profiles - a light-hearted look at industry personalities
No. 28 in a continuing series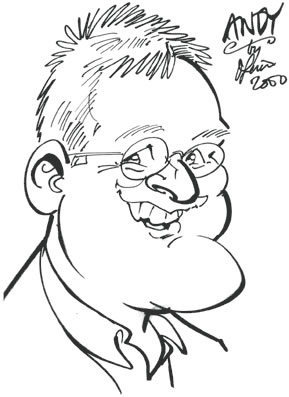 Caricatures by

Andy Graves
Head of Sales and Marketing, Pulsar Light of Cambridge
Born in Bridlington on the bracing Yorkshire coast, Andy Graves grew up in nearby Scarborough. From a very early age he was persistently taking things apart to see how they worked, an activity frowned on by his mother who had the regular problem of reassembly. His first vague memories of an interest in lighting go back to primary school plays, but during secondary school this expanded to include sound - resulting in the introduction of school discos featuring home-made sound-to-light units made from Practical Electronics plans (not CE marked!).
At the age of 13 he discovered the local YMCA he attended also had a 'TV Theatre'. Well equipped for its time (1979), the amateur-funded venue proved to be a great learning ground for Andy with its four black-and-white-camera studio and sound and lighting systems to explore. The YMCA was also the home of a ballet school, and the combination of talents saw the production of many shows staged at a wide range of venues, in addition to the YMCA's own TV theatre. One ambitious production was staged at the vast Open Air Theatre - a technical miracle as the show was crewed and set up totally by amateurs in a venue unused for many years.
Andy's first experience of professional theatre was the Royal Opera House where the annual YMCA pantomime production was staged. After a year in the flys and the next on follow-spot, he finally arrived at the lighting desk. It was at this point that he was offered paid employment as a theatre technician.
Following visits from major touring shows, two summer seasons came along, with variety shows with the Grumbleweeds and Stan Bordman toping the bill. Two shows a night with the obligatory midnight hypnotist kept Andy on his toes - not forgetting the afternoon film matinee thrown in for good measure.
During his time at the Opera House, he was still attending Scarborough Sixth Form College studying I-Level Physics, Electronics and Computing. He didn't do as well as he had hoped, but puts that down to the amount of time he spent working in the Opera House!
Winter work involved the local Ladbroke Holidays venue. Although a holiday park theatre the 'Rendezvous' was a substantial show venue that was well equipped with grid, 72-ways of lighting control and 36-channel sound desk and Andy quickly felt at home assisting with many special events.
As summer approached again, he was offered the full time position of 'Venue Supervisor' - looking after the three show venues within the park. Soon after this his boss was promoted to Entertainment Director for the then 'Mecca Leisure Holidays', and Andy followed with the brief of looking after the purchase, maintenance and support of sound and lighting equipment for 27 show venues of across the UK.
Much of the equipment he was using at the time was purchased from Dial Sound & Lighting in Bradford, and it was Dial's Andy Blackwell who introduced him to Pulsar's Derrick Saunders. After a factory visit and dinner with Paul Mardon, Ken Sewell and Derrick he was offered the position of Project Support Manager, with his initial role to support the growing number of automated lighting solutions that often featured Pulsar's OSKA controller and Clay Paky Golden Scans.
Under the wing of Derrick, Andy's involvement in sales-based activities quickly grew to include worldwide exhibitions and customer visits. This was a very exciting time for him as the relationship with Clay Paky and Pulsar blossomed and produced many market leading successes such as the introduction of automated moving mirrors into the touring and televisions industries in addition to their well established place in the club market.
The introduction of the revolutionary Pulsar Masterpiece controller in 1990 and the rapidly developing abilities of Clay Paky's fixtures required the establishment of a new support strategy as it was no longer possible to support each project on site as had previously been the case. Andy therefore introduced a comprehensive range of monthly seminars to assist with customer and dealer education. In addition, international seminars were also held at exhibitions and at dealers' premises.
The last two years have brought new and exciting challenges for Andy. With the retirement of Ken Sewell and Derrick Saunders, he was promoted to the position of Head of Sales & Marketing. "Running the department is exciting and fulfilling, as we have a great team and we all work very well together," he says. "The new era under the sole company ownership of MD Paul Mardon is rapidly producing many exciting company-wide developments - in particular the introduction of the ChromaRange LED fixtures. The future looks bright for Pulsar and I am confident we will continue to grow from strength to strength."
Andy is married to Yesim, described by him as 'a gorgeous Turkish lady'. They met while Yesim was studying English in Cambridge. His declared hobbies are Yesim, the house - and gadgets - as anyone who has visited his home will confirm. "I spend a lot of time travelling and therefore try to enjoy home comforts when I can!"
Look out for the next subject in our Profile series...
© 1999 - 2023 Entertainment Technology Press Limited News Stories