Aktuelle News & Schlagzeilen
Koy Neminathan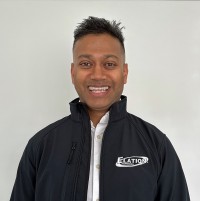 Koy Neminathan has joined Elation Professional as Director of Business Development. The industry veteran comes to Elation from lighting console manufacturer Avolites, where he worked for over 23 years in sales and business development, the last decade as Sales Director.
Neminathan will work closely with designers to keep them abreast of Elation's lighting products while communicating market insight to the Elation product team. Based in London, he started in his new role on May 9 and will be travelling frequently abroad to visit Elation distributors and customers.
Neminathan also serves as a Manufacturer's Representative for PLASA, where he advocates for the interests of manufacturers across all sectors, and is a Trustee for the industry charity Backup. He also led the international wing for the WeMakeEvents campaign during the pandemic and still serves on its steering committee.
(Photo: Elation Professional)
© 1999 - 2023 Entertainment Technology Press Limited News Stories